Over 40 years of great finds and family fun
Two buildings with over 200 vendors
Hundreds of outdoor vendors
Numerous food concessions
Jamie's is a
unique shopping experience
, unlike the local malls where everything is the same. It's like going on a
treasure hunt
every time! You never know what you're going to find – and that's what makes Jamie's so much fun.
Some people come early to
scout out the new merchandise
and hunt for deals. Some people prefer to arrive later for end-of-the-day bargaining. Whatever the strategy, few people leave this historic flea market without something to call their own.
Since Jamie's is
open year round
, there are over
250,000 shoppers every year
at Jamie's. Lots of shoppers mean
lots of choice!
Reminder: Jamie's does not allow the sale of animals and has a no pet policy. This also includes no animals for entertainment purposes such as rides, pictures, exhibit etc... THE ONLY ANIMALS ALLOWED AT Jamie's are: Service animals are permitted. Outside vendors who travel are welcome to bring their pets, but they must stay in your booth at all times, be on a leash and cleaned up after.
Free Admission. Free Parking.
We hope to see you at Jamie's this Saturday!
Find It At Jamie's
Start your search for items here
S. Amherst Forecast
Jamie's News
01/7/2019: Become a vendor
Looking to become your own boss? Jamie's is the best place to test out your skills with little overhead and a small commitment you may find you really are a pro. Great way to start your own business or down size your home goods. Whatever the case may be Jamie's is the place. Stop by any Wednesday or Saturday and we'd be happy to show you what we have available and get you started.
09/22/2018: Fall here at Jamie's Flea Market
Happy First day of FALL! We woke up today to wonderful fall like weather and everyone here at Jamie's is loving it! We started fall activities last weekend around here with our annual Apple Pie Contest. Below is a picture of our pie contest winner! Remember, we are open all year round on Wednesday and Saturdays from 8am-4pm!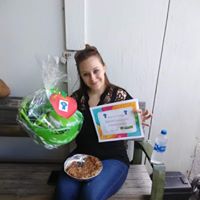 I just want to thank you all again for being so wonderful to my dad for all the years he was a vendor. I know he misses everyone there, it was his life. You really have no idea how much the family-like atmosphere at Jamie's meant to my dad and to his family.
- Jeanmarie Betti B.