In the News
Oh My... Blue Ribbon Apple Pie
Friday, October 23, 2015
The sunsets are coming earlier, temperatures are drifting downward and fruits of the season are ripe. As autumn arrives it always strikes me how quickly the year has gone by. It seems like yesterday I was preparing to rake the leaves and preparing my apples for a delicious apple pie.
I especially enjoy strolling through the market and seeing all of the beautiful hues of the natural fruits of the season. Do you have a favorite fruit or vegetable for the season? Mine is of course, the Jonathon Apple. They make the most fantastic apple pie!! Here is my "Go To" recipe for the perfect Apple Pie.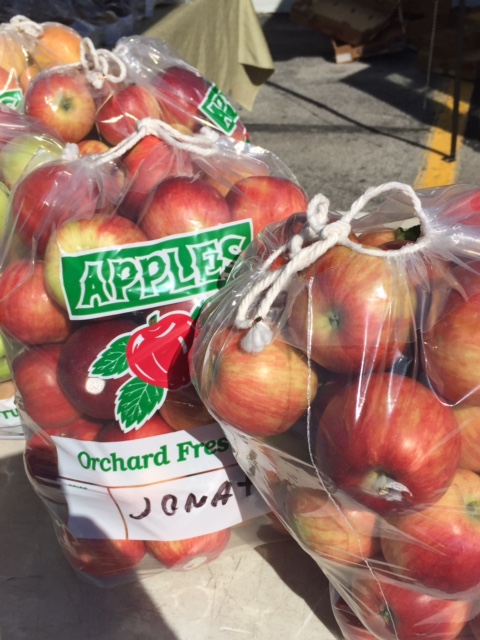 Blue Ribbon Apple Pie
Crust
2 1/2 cups all-purpose flour
1 teaspoon sugar
1/2 teaspoon salt
1/2 teaspoon ground cinnamon
1/4 teaspoon ground nutmeg
3/4 cup cold butter, cut into chunks
6 to 9 tablespoons cold water
Filling
1/2 cup sugar
1/4 cup firmly packed brown sugar
1/4 cup all-purpose flour
1/2 teaspoon ground cinnamon
1/2 teaspoon ground nutmeg
6 medium (6 cups) tart cooking apples, peeled, cored, sliced 1/4-inch
1 tablespoon Butter
1 teaspoon sugar
Directions
Combine 2 1/2 cups flour, 1 teaspoon sugar, salt, 1/2 teaspoon cinnamon and 1/4 teaspoon nutmeg in bowl. Cut in 3/4 cup butter with pastry blender or fork until mixture resembles coarse crumbs. Stir in enough water with fork just until flour is moistened.
Divide dough in half; shape each half into ball. Flatten slightly. Wrap each ball of dough in plastic food wrap; refrigerate 30 minutes.
Heat oven to 400°F.
Roll out one ball of dough on lightly floured surface into 12-inch circle. Fold into quarters. Place dough into ungreased 9-inch pie plate; unfold dough, pressing firmly against bottom and sides. Trim crust to 1/2 inch from edge of pie plate; set aside.
Combine all filling ingredients except apples, 1 tablespoon butter and 1 teaspoon sugar in bowl. Add apples; toss lightly to coat. Spoon apple mixture into prepared crust.
Roll remaining ball of dough into 12-inch circle. Fold into quarters. Place dough over filling; unfold. Trim, seal and crimp or flute edge. Cut 5 or 6 large slits in crust. Brush with melted 1 tablespoon butter; sprinkle with 1 teaspoon sugar. Cover edge of crust with 2-inch strip aluminum foil.
Bake 35 minutes; remove foil. Continue baking 10-20 minutes or until crust is lightly browned and juice begins to bubble through slits in crust. Cool pie 30 minutes; serve warm. Store refrigerated.